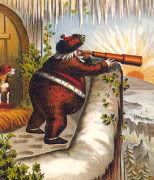 It looks like Australia was serious when it
said
it didn't want its Santas saying "Ho, ho, ho," the traditional Santa laugh. I wrote about that earlier in mid-November, when protesters targeted Westaff, a company that supplies hundreds of Santas in Sydney, for wanting its Santas to use the phrase "Ha, ha, ha" instead.
Westaff wanted the change made because it felt that the "Ho, ho, ho" phrase could frighten children and could even be derogatory to women (right!).
70-year-old John Oakes said he was fired on Monday for saying "
Ho, ho ho
" and for singing the Christmas song Jingle Bells (for
Jingle Bells
?). Oakes has been a Santa for 3 years running.
Meanwhile, a Westaff spokesman said that Oakes had been dismissed because of his attitude, and not for Ho, ho, ho-ing.
Well, if you won't even let him laugh, what do you expect Santa's attitude to be like?