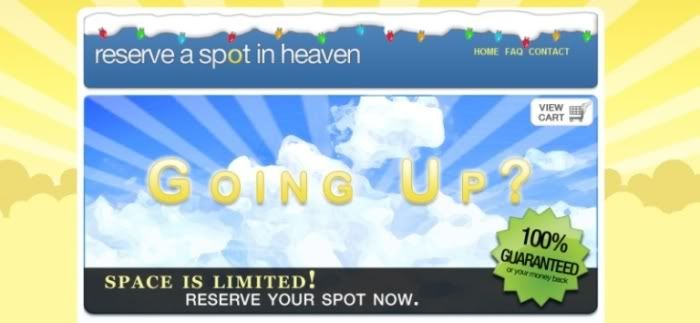 Afraid you won't make it into Heaven? Now you can buy your way in (although I'm sure some have tried this already). This website,
ReserveASpotinHeaven.com
, says it will guarantee you a spot in Heaven, or your money back.
I'm assuming not that many have noticed this site as there's no news of a lawsuit yet (
knowing our country
).
So, what are the details? There are two different "packages." One is the "Essentials Travel Kit," $12.79. This includes:
Heavenly issued certificate of reservation with a unique I.D. number registered in the Book of Light™
A First class ticket to Heaven. Why walk those stairs when you can fly?
The Official Heaven Identification Card so you can get around without getting hassled.
Heaven 101 mini informational guide. Don't be a victim of culture shock. Get acquainted with the land.
The upgraded "All Access Travel Kit," $24.95, includes the above
plus
:
All access VIP pass. This pass will grant you access to "VIP exclusive areas" including the Land of Milk and Honey, where all the elite get together and kick it.
Framing. Your ticket to Heaven and certificate of reservation will be nicely framed in an elegant casing.
As the site says, "spots are filling very quickly" in Heaven, so (according to them) you should sign up soon. And don't forget that 100% guarantee (though I'm not sure what good a refund will do you "down there").
Even better, you can give a Spot in Heaven for a friend or loved one, or even Spot (your pet, right?). They even have group rates and a monthly drawing for a free Spot as well.
Obviously (I hope!) a gag gift, but still, a serious business. I found this
thread
on PayPal's website where the site owner was asking for some help.
On the other hand, I can think of a few politicians in the current administration who might need help getting "up there," so if you're in the mood you might consider this as a gift. They may need more than one to make it, based on past deeds, though.