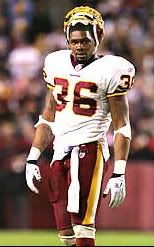 The Washinton Redskins honored safety Sean Taylor, 24, who died on Tuesday from gunshot wounds, with a moving pre-game ceremony. The ceremony included a video montage of clips of his high school and college days, and an interview with him. There was also footage of Taylor with his young daughter.
The postscript to the video said, "WE WILL MISS YOU SEAN."
But that wasn't all.
When the Buffalo Bills offense took the field for the first time midway through the first quarter, the Redskins defense lined up with only 10 men on the field, similar to the "
missing man formation
" often used in flyovers. Taylor's open spot on the field was obvious.
The Bills gained 22 yards on the short-handed play, but it was a fitting tribute.