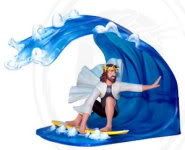 Jesus the Surfer. Jesus the Biker. Jesus the Bull Rider (?). And more.
This is the new line of Jesus "action" figures from
Fishermen, Inc. Each comes with a crown of thorns, and each has a different message, which you can see as you pan across the home page above. The are as follows:

Bull Rider: Strength

Quaterback: Faith

Biker: Freedom

Soccer Star: Victory

Panhandler: Hope

Surfer: Spirit

Skateboarder: Youth

Rock Climber: Life

Click the surfer dude above to see most of the line (the rock climber and skateboarder wouldn't fit on his home page). Price varies from $20 - $30.
According to the founder, Eric Dyson, in a message available on his site (but not linkable), the death of his father led him to soulsearching, and God told him "I am always with you," to break through his despondency.
With this message, he says, came a vision of Jesus on a motorcycle riding across the open roads of America. Thus he decided to create this line of figures.
The figures are available at Christian retail stores, but it's apparent from the "Coming Soon" message when you click "Buy Now" at the site, they will soon be available online as well.