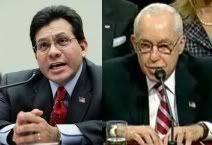 The people (or other lawyers) have spoken, and the American Bar Association (ABA) has listened. As I
wrote
earlier, the ABA named Alberto Gonzales 2007 Lawyer of the Year and Michael Mukasey 2008 Lawyer of the Year. At the time, the explanation was that Gonzales made the most news in 2007, and Mukasey was anticipated to do the same in 2008.
Apparently, and unsurprisingly, lawyers around the country objected to the "Lawyer of the Year" title, and the ABA Journal has retitled the two as "Newsmakers of the Year."
In a
post
on their site, the ABA said:
We appreciate the feedback we've received, and we're acting on it. So that there can be no confusion, the term "Lawyers of the Year" has been changed in the headline and story to "Newsmakers of the Year." The story is otherwise unchanged from its original version.
As I said in my previous post, Time Magazine named Hitler "Man of the Year" once,
basically for the same reason (not that I'm comparing them, just the thought process of the ABA Journal).
It didn't really take them long to rethink their original decision, only a couple of days. That must have been one heck of an email / phone / letter-writing campaign by lawyers around the country.