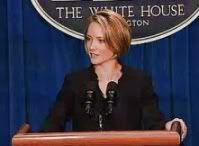 This is why I love the NPR show,
Wait, Wait, Don't Tell Me
. This weekend they had White House Press Secretary Dana Perino on during the
Not My Job
part of the show, and she admitted she didn't know what the Cuban Missile Crisis is.
Unfortunately, as she is appointed, not elected, I can't make a joke about "these are the people we elect?" I could say, "these are the people appointed by the people we elect?"
She indicated last week she was asked about the Cuban Missile Crisis in reference to President Putin's comparison of the U.S. missile defense shield program to the Cuban Missile Crisis. From the show:
"I was panicked a bit because I really know about ... nothing about ... the Cuban Missile Crisis. It had to do with Cuba and missiles, I'm pretty sure."
She admitted he had to ask her husband and he shook his head.
I have to admit she has a decent sense of humor, even about the
mortgage hotline goof
by Bush last week. She also admitted her husband has told her not to talk to him in her "White House voice." She wouldn't demonstrate the voice for NPR, though.
Unfortunately, she didn't win for her contestant.

You can here the whole segment
here
; click on Not My Job.