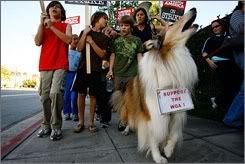 Yes, our favorite collie appears to be supporting the Writers Guild of America (WGA) by picketing (see pic). In reality this is an imposter (we know Lassie has plenty of stand-ins) ... but it
is
Lulu, a descendent of Lassie (though since there have been many Lassies, it's hard to say which one!).
However, as Lassie and his (yes, remember Lassie is a
he
) owners and descendents have made tons of money off the hard-working backs of Hollywood writers, through TV series and movies, it's likely he supports the WGA.
(Besides, anything for a cool-looking dog picture, I say. The identity of Lulu was confirmed in a photo caption at The USA Today, though they were not interested in Lulu, while I was!)
The WGA went on strike Nov. 5th over payment for work aired on the Web. Talks are reportedly set to start again today.