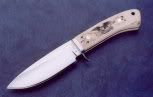 I kid you not. A knife attack by two men left Kevin Williams, 29, fighting for his life. The attack took place in a shop in Queen's ­Crescent, Kentish Town, and unlike shows like C.S.I., there was no residual forensic evidence. And Williams could remember little about the attack. But there was ... a closed-circuit video.
But the video didn't show any faces! What it did show, when one of the attackers bent over to continue attacking a prostrate Williams, was a large and ­distinctive birthmark across the attacker's lower back and butt.
It's unclear how police targeted the eventual suspect, Aaron Williams (unrelated), 28, but there had been a dispute between the two men over a woman. After arresting him, they photographic his back, and a dermatological expert said the marks, because of their uniqueness, were identical.
Aaron Williams was convicted and sentenced to 16 years. Kevin Williams still has several surgeries to endure. The second attacker has not been identified.