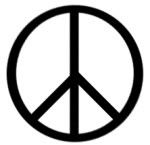 Today, February 21st, is the 50th anniversary of the peace symbol. The iconic symbol was developed in 1958 by Gerald Holtom, a professional designer and artist (as well as a graduate of the Royal College of Arts and conscientious objector) in Great Britain.
It was originally designed specifically for the Campaign for Nuclear Disarmament in Great Britain. In fact, the symbol is a combination of the semaphore signals for the letters "N" and "D" - standing for
N
uclear
D
isarmament (as shown).
It was Feb. 21, 1958 when the symbol was accepted by the Direct Action Committee Against Nuclear war. While quickly being used in anti-nuclear protests across Great Britain, it soon spread worldwide, and has since become universally known to represent peace rather than simply nuclear disarmament.
On this 50th anniversary of its adoption, wouldn't it be wonderful to see 50 years of peace, rather than just a symbol?