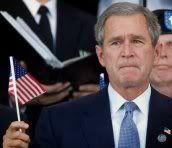 I
wrote
about this in August of last year, when Bush was still trailing Reagan 436 - 418 in terms of vacation days. But according to CBS Radio correspondent Mark Knoller, Bush has now broken the record.
Knoller
says
that last weekend's trip by Bush to (where else?) Crawford, TX with the Danish minister in tow was the 70th trip of his presidency. In total, Bush has spent 452 days on vacation during his presidency. That's close to 1 1/3 years.
And he's still got a long time before the next president is inaugurated. Perhaps he can put the record out of reach of any future presidents.
I have to admit, however, that I feel torn about this issue. With 452 more days (and counting) of more work, he quite possibly could have screwed the country up more than he did. I realize, however, how difficult that is to imagine.
P.S.
Please forgive me; I may have given you the impression that when Bush was in Washington, D.C. he actually worked.